The Philippine Overseas Labor Office (POLO)
160 Eglinton Avenue East, Suite 200,
Toronto, Ontario M4P 3B5
Tel. No. (416) 9758252
Fax No. (416) 9758277
Hotline 647 9927656
Primary email:

This email address is being protected from spambots. You need JavaScript enabled to view it.
Secondary/alternate email:

This email address is being protected from spambots. You need JavaScript enabled to view it.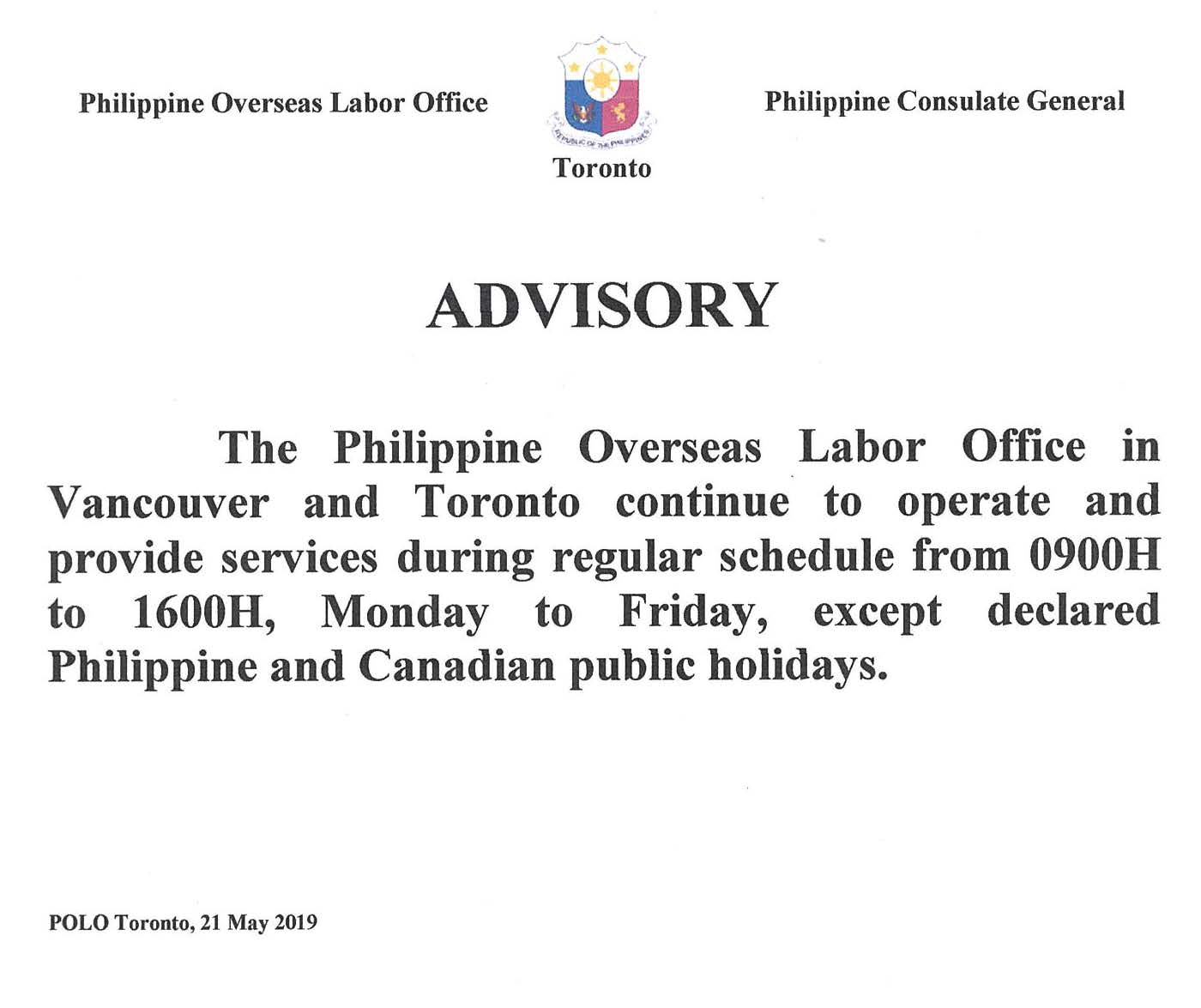 CHECKLIST OF REQUIREMENTS FOR VERIFICATION
A. Name/Direct Hiring System (Not applicable to hiring Caregivers and Workers in Agriculture sector)
B. Agency Hiring System
Skilled Workers
FORMS
Addendum to the Employment Contact
Important Notices:
We will return without action all submissions for verifications that are found to be incomplete in terms of documentary requirements and payments of fees.

"Incomplete" means not only lacking in the required documents but refers to those with inaccurate information or data given such as employment contracts and/or addendum without date, name and signature of the employer or the duly authorized representative, and contracts that do not contain basic provisions like salary per hour (which must not be lower than that indicated in the LMO or that which is generally accepted in the industry if the skills category is LMO-exempt) and the frequency of payment (which must not be less than twice a month). It also refers to wrong or inaccurate payment of verification and authentication fees.
iDOLE OFW ID launched, guidelines on issuance out soon
https://www.dole.gov.ph/news/view/3786
19 July 2017 - The Department of Labor and Employment (DOLE) recently launched the iDOLE OFW ID card, an innovation to ease transactions of millions of OFWs with government and private agencies concerning their overseas employment. Guidelines on availment will be issued soon.

Labor Secretary Silvestre H. Bello III said that the OFW ID is a component of the Integrated Department of Labor and Employment (iDOLE) System. It will undergo a three-month pilot run and eventually serve as an OFW's Automated Overseas Employment Certificate (OEC), and airport and immigration ID pass.
2. OWWA Membership/Renewal Requirements