Details

Hits: 66
PR-2022-25

Toronto, 09 April – Consul General Orontes V. Castro visited MB The Place To Be with members of the media to try out the prix fixe offerings of MB The Place To Be in support of its participation in the FRM 2022 this whole month of April 2022. He was accompanied by Consul Mary Grace Villamayor. Before the pandemic, MB The Place To Be was a known hang-out place of Canadian locals and overseas Filipinos who want to enjoy the comedy or karaoke nights scheduled from Thursdays to the weekends. During its comedy nights, patrons are able to watch the comedy sets of numerous stand-up comedians of various backgrounds and representations.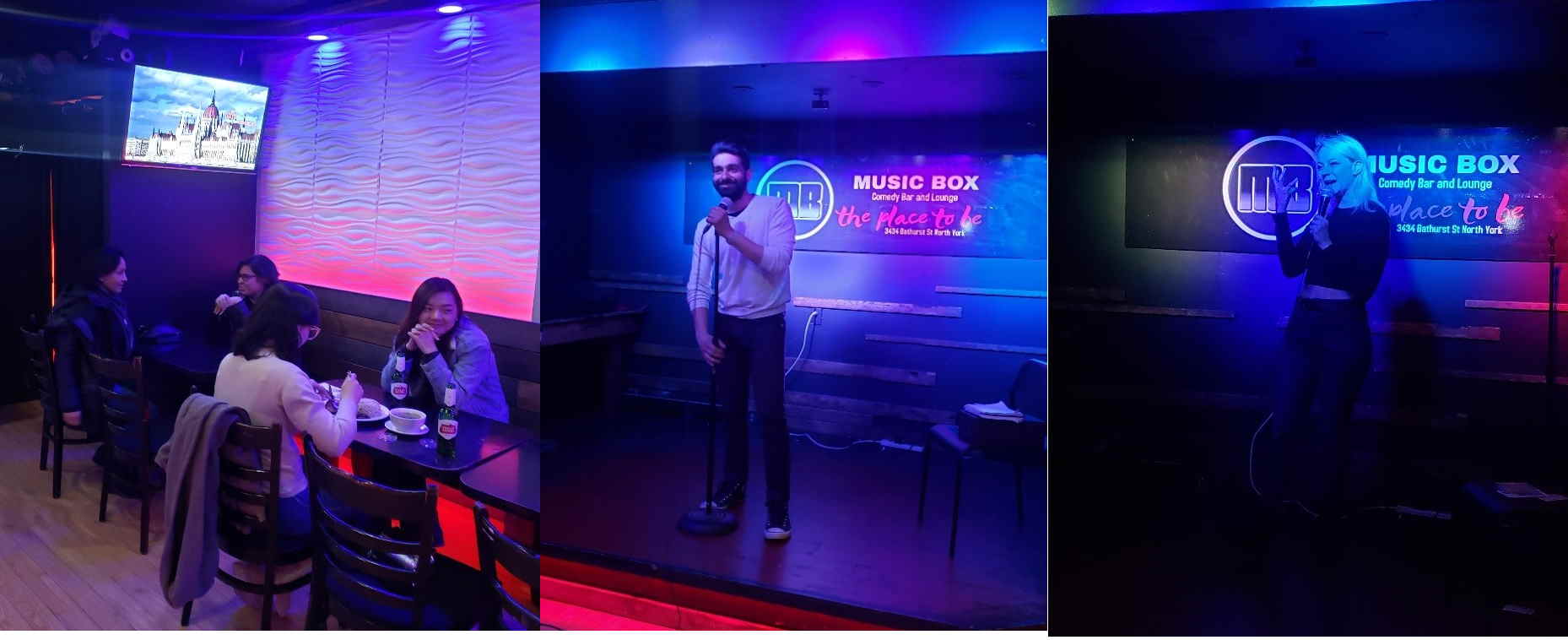 Pandemic restrictions greatly affected the operations of MB The Place To Be. In order to weather the challenges, its owners decided to pivot from an entertainment place serving delicious bar food to a restaurant that delivers quality Filipino food that can satisfy the food curiosity of local Canadians. Its owners and cooks studied which representative Filipino dishes to best include in their menu to directly appeal to the broad Canadian market they had as an entertainment place, and they experimented on taste and quantity that can best please to broaden their Canadian local and overseas Filipino patrons. The result is rich-tasting Filipino dishes which are already enjoying interest world-wide such as adobo and sisig, with a twist and in generous servings. MB the Place To Be partnered with various delivery apps to make their menu accessible to a wider GTA market, which during the pandemic became more adventurous in choosing what food to eat. Everyone can enjoy a sample of MB The Place To Be's well-curated menu of well-loved Filipino dishes when ordering their FRM 2022 prix fixe offerings' generous meal servings, each can be shared by two. END—
Details

Hits: 81
PR-2022-24
Toronto, 16 April – The Philippine Consulate General visited the Islas Filipino BBQ & Bar at Queen Street West in Toronto, together with members of media to get to know more about what inspired its Filipino food creations and how they got started. Chef-Owner Mark Buenaventura shared with Philippine Consul General Orontes V. Castro that the dishes in Islas' menu, including its current prix fixe offerings for the FRM 2022, are largely influenced by the food he enjoyed during his travels throughout the Philippines, his food memories from childhood and how family members cooked the Filipino dishes they shared during family gatherings and even ordinary days. As an example, his FRM 2022 prix fixe main dish of chicken adobo is served with egg, silog-style, similar to how his father would serve the dish.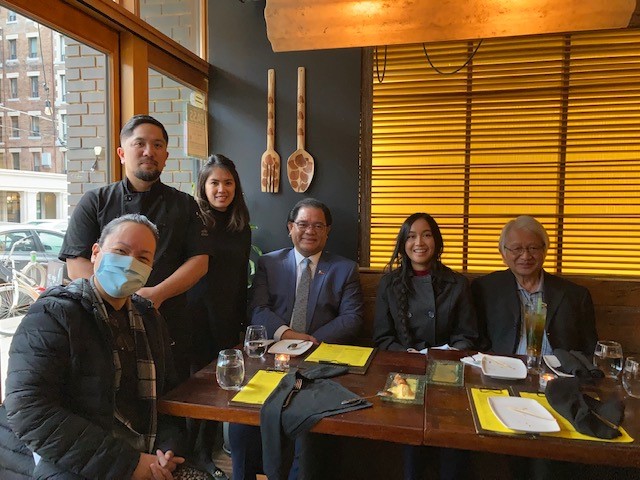 Chef Mark recounted that both he and his wife, Mariel Buenaventura, started in the finance and marketing industry, but the idea of opening a restaurant was something they were able to follow-through once it germinated. Their business background and love for the food dining experience produced Islas Filipino BBQ & Bar that has an upbeat vibe and hip food presentation that is enjoyed by its dining public comprising mostly of local Canadians.

(L-R) FRM 2022 prix fixe menu of Kare-Kare Bagnet and Chicken Adobo, both served with rice, lumpia starter and a choice of karioka or turon with ice cream for dessert ; facade of Islas Filipino BBQ & Bar, with the FRM 2022 posters showing the names of the different restaurant participants prominently displayed. Having no previous food industry background, they saw the value of networking with like-minded individuals and are actively engaging with relevant organizations. Chef Mark and Ms. Mariel Buenaventura hope that FRM 2022 become a yearly project that would unite and strengthen Filipino enterprises in the food and restaurant industry in Canada. They hope that not only the marketing and promotion gets a focus, but the sourcing and importation of ingredients from the Philippines be facilitated as well. END—
Details

Hits: 118
PR-2022-22
18 April 2022, Toronto - The Philippine Consulate General (PCG) in Toronto conducted the third feeding of the ballots received at around 9:00 a.m. at the Sentro Rizal Toronto.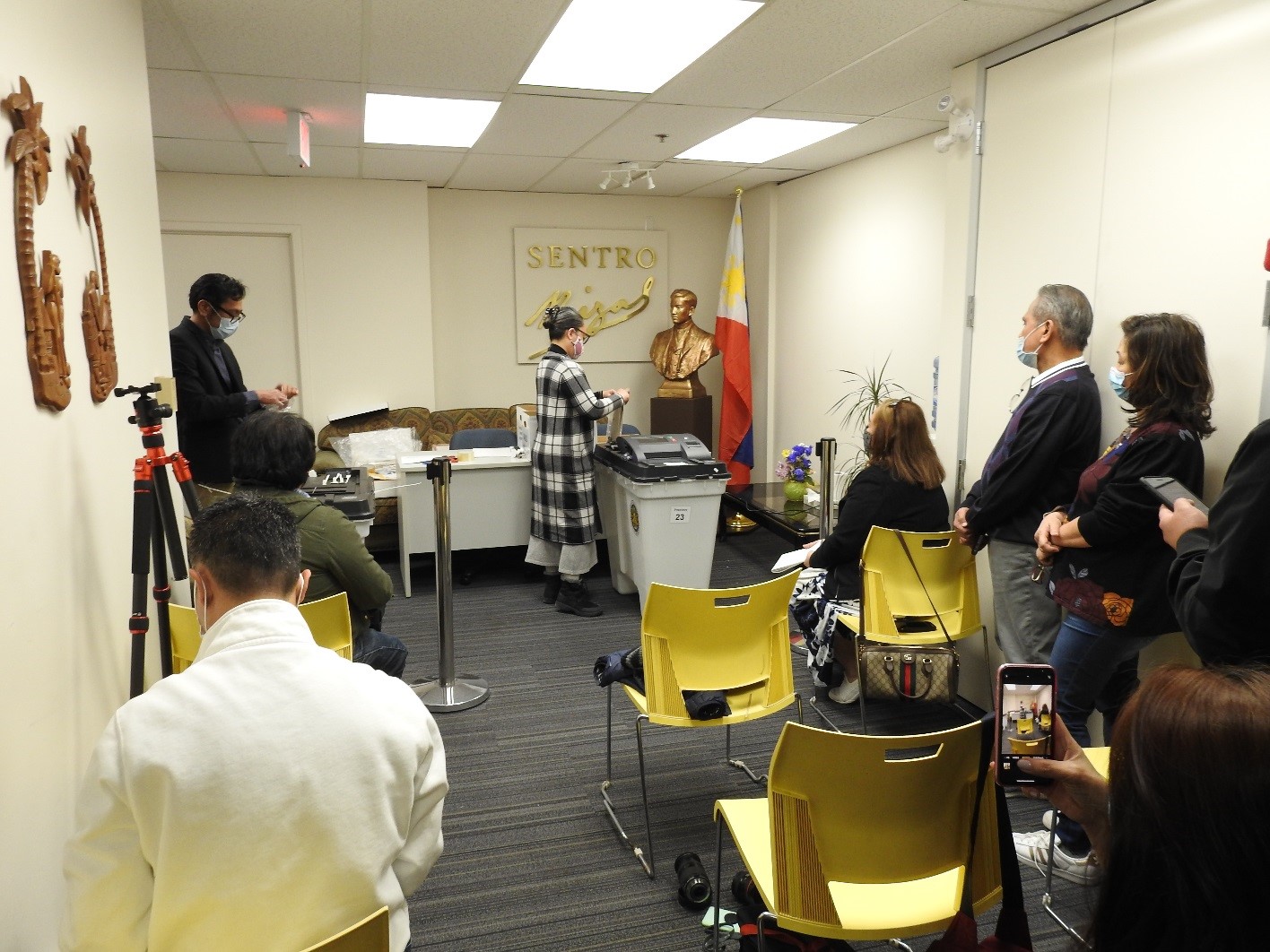 Present during the feeding of the ballots were representatives from the Partido Federal ng Pilipinas, Sagip Party-list and of Senator Joel Villanueva as Poll watchers. UNTV News covered the event. Accredited independent media representatives from Radyo Migrante, Atin Ito News and Filipiniana News also attended the event.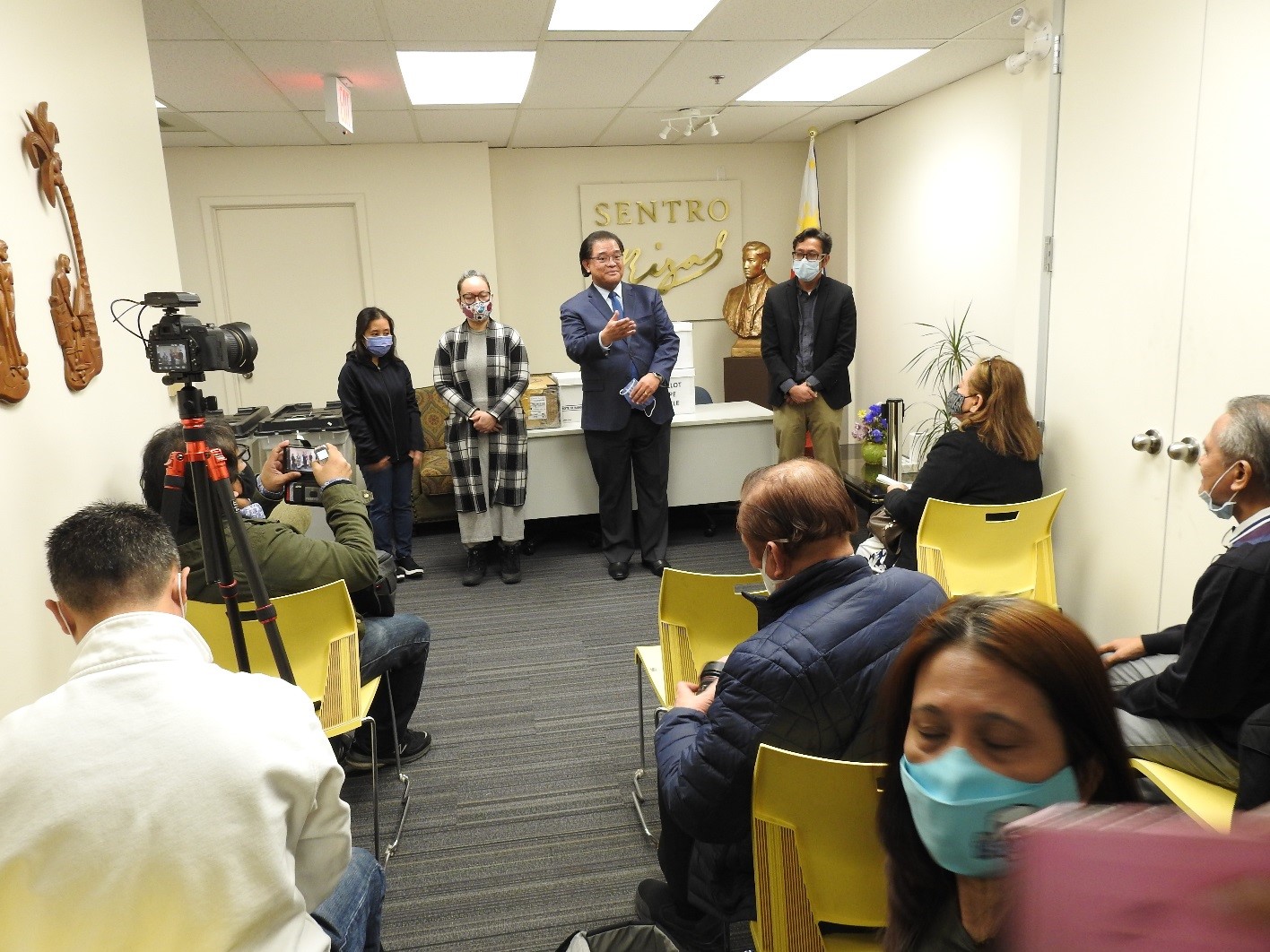 There was an open forum after the feeding of the ballots. Discussed were the election process, the status of the ballots and concerns on pre-shaded ballots. The poll watchers and media representatives expressed appreciation for being able to witness the feeding of the ballots and how the process was very orderly. Consul General Orontes V. Castro emphasized that the Consulate General is dedicated to ensuring a transparent and orderly elections. END
PHOTO RELEASE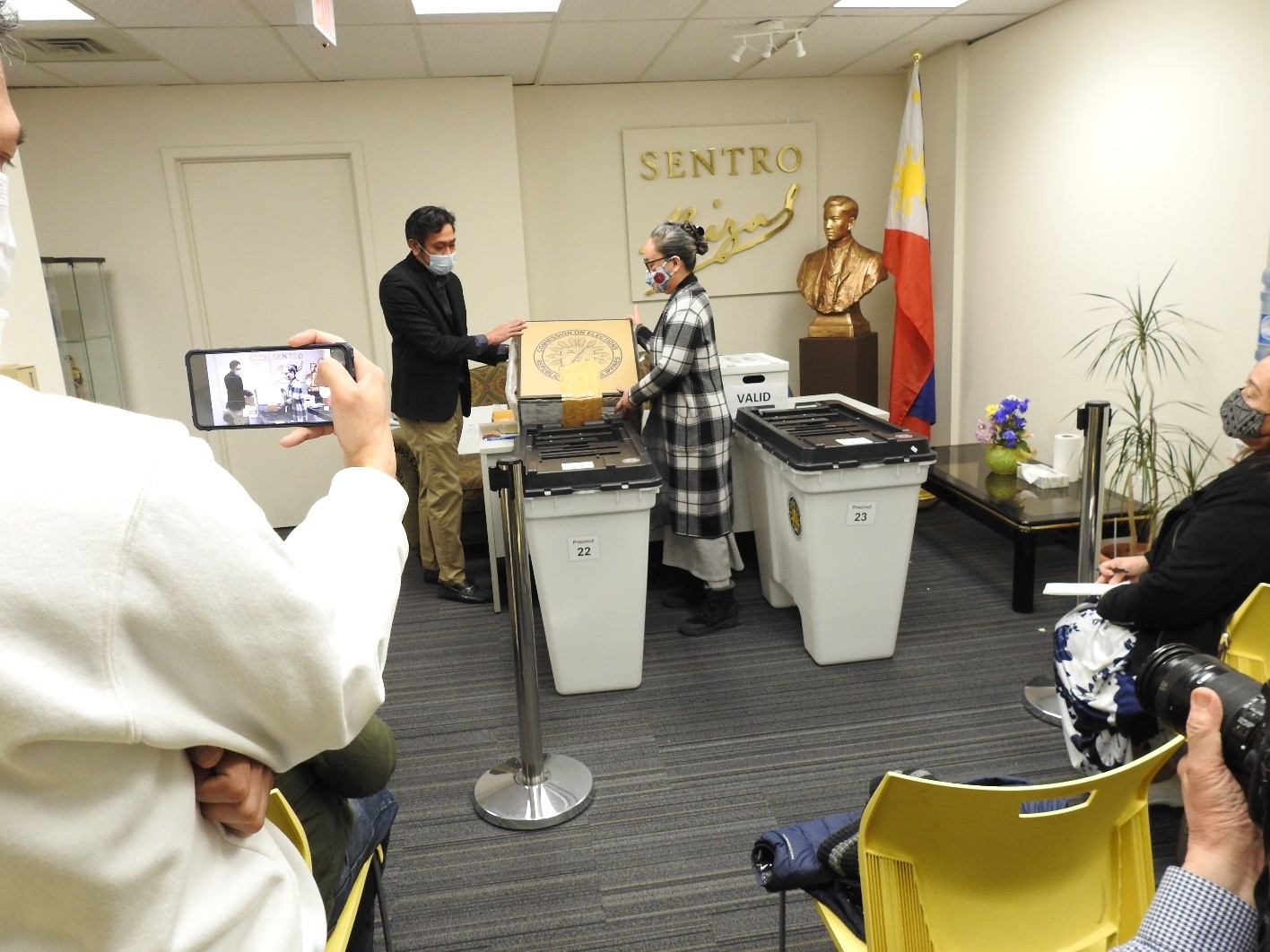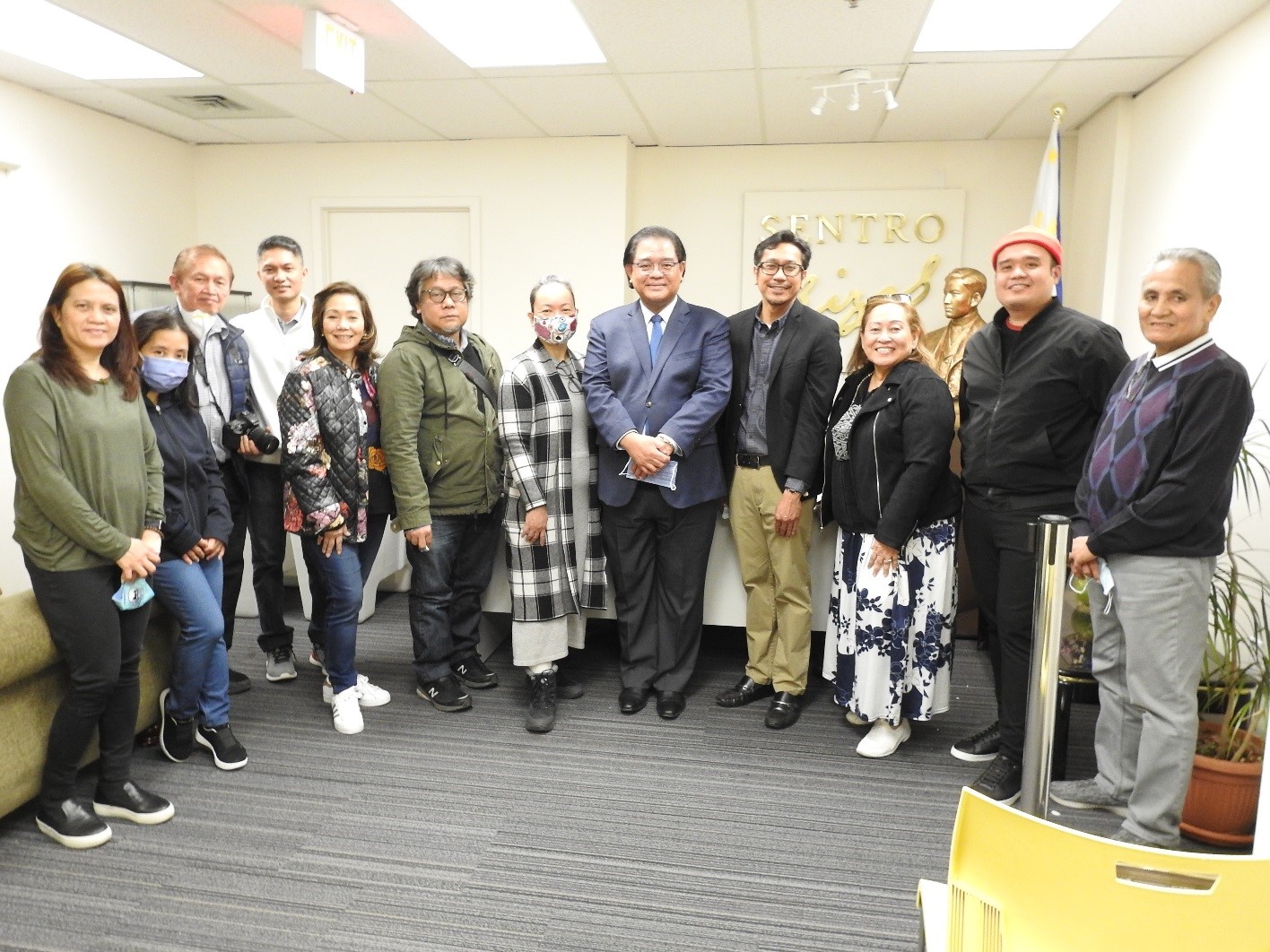 Details

Hits: 111
PR-2022-23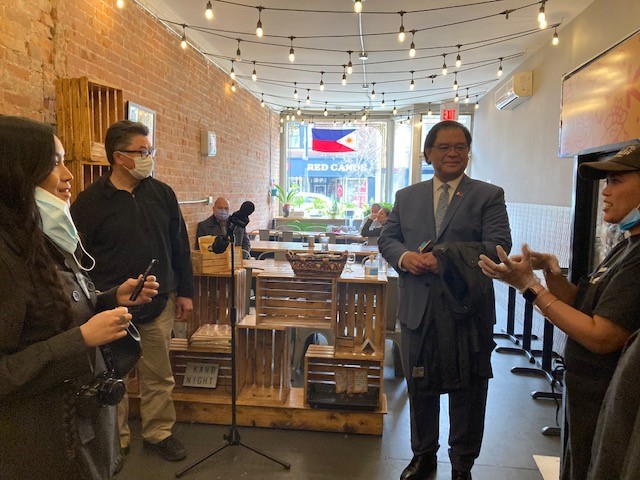 Toronto, 16 April – Philippine Consul General Orontes V. Castro travelled the historic arterial Dundas road of Toronto to Dundas West or The Junction, one of the trendy neighbourhoods in Toronto, a destination for vintage fashion and thriving night scene, with bars and restaurants that have garnered a lot of popularity in years prior to the pandemic. In that neighbourhood, Consul General Orontes Castro visited, together with the media's OMNI and The Philippine Reporter, the Kanto by Tita Flips restaurant, a Filipino cuisine destination for foodies of Filipino, Canadian and other international descent. Kanto by Tita Flips is a participant of the Filipino Restaurant Month 2022, and is also among the first Filipino restaurants in Toronto that garnered mainstream attention and patronage when Filipino cuisine started to become a trend in the early 2010's. Its specialty is Filipino street food, and its secret to good food as shared by its Chef-Owner Ms. Diona Joyce is fresh ingredients, thoughtfully prepared and cooked from scratch. Mainstream Canadian media have singled-out and featured Kanto by Tita Flips' Ukoy and Sisig-fries, a Filipino-Canadian fusion dish served like poutine. These are must-try dishes when visiting their restaurant, as well as the bringing home of their home-made Filipino snacks and condiments. They also have choices for those looking for vegan and gluten-free Filipino food.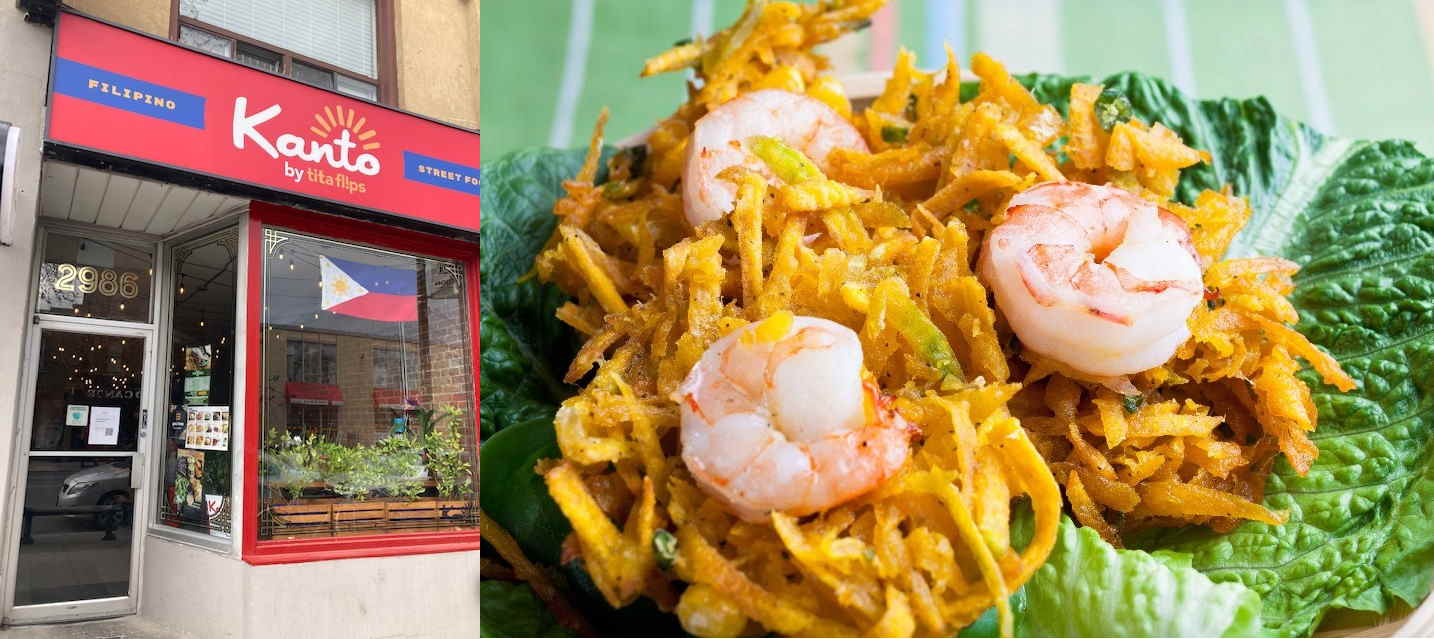 Luckily, Kanto by Tita Flips' prix fixe menu for FRM 2022 includes its well-loved Ukoy, made of crispy squash or pumpkin and shrimps as a choice for starters, the other being fresh lumpia with peanut sauce. The main dishes for the prix fixe provides a wide choice of the Filipino comfort food Beef Kare-Kare or Lechon Kawali, a vegan option of Laing, and the Piyanggang Chicken, a dish that is familiar to Filipinos from Southern Philippines but would be a new food experience for Filipinos from the provinces of Luzon. The choice of prix fixe desserts should not be missed, as Kanto by Tita Flips' rich-tasting leche flan and turon with ube ice-cream will linger in your memory and taste buds, making you want to come back for more. END—

Other sources: https://globalnation.inquirer.net/83965/balut-sells-in-toronto
Details

Hits: 134
PR-2022-21
14 April 2022, Toronto - The Philippine Consulate General (PCG) in Toronto conducted the second feeding of the ballots received at around 9:00 a.m. at the Sentro Rizal Toronto.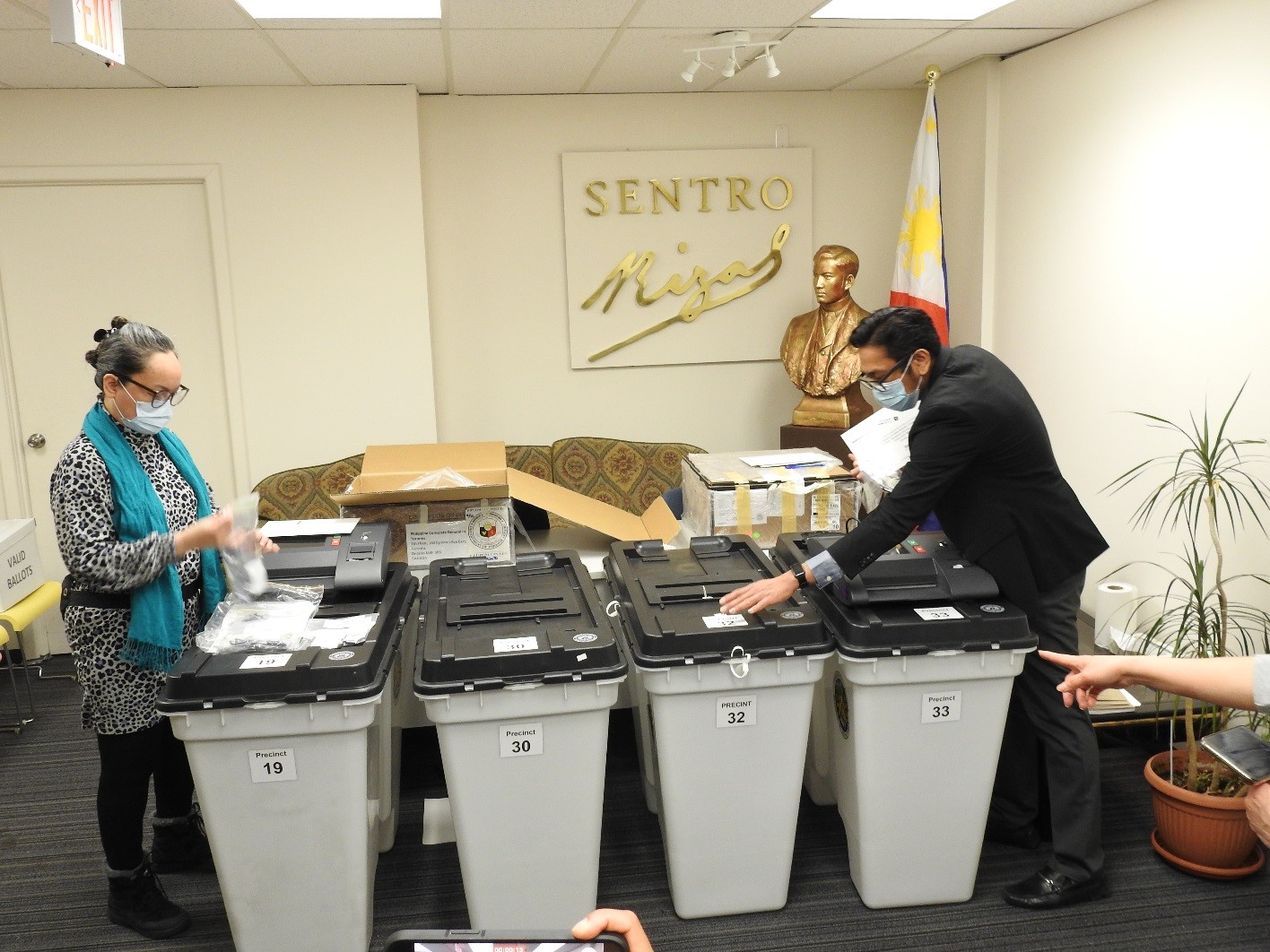 There were four (4) ballots fed to the Vote Counting Machines (VCM). The feeding of the ballot was witnessed by representatives from the Partido Federal ng Pilipinas and Sagip Party-list as Poll watchers. The event was covered by Sonshine Media Network International (SMNI).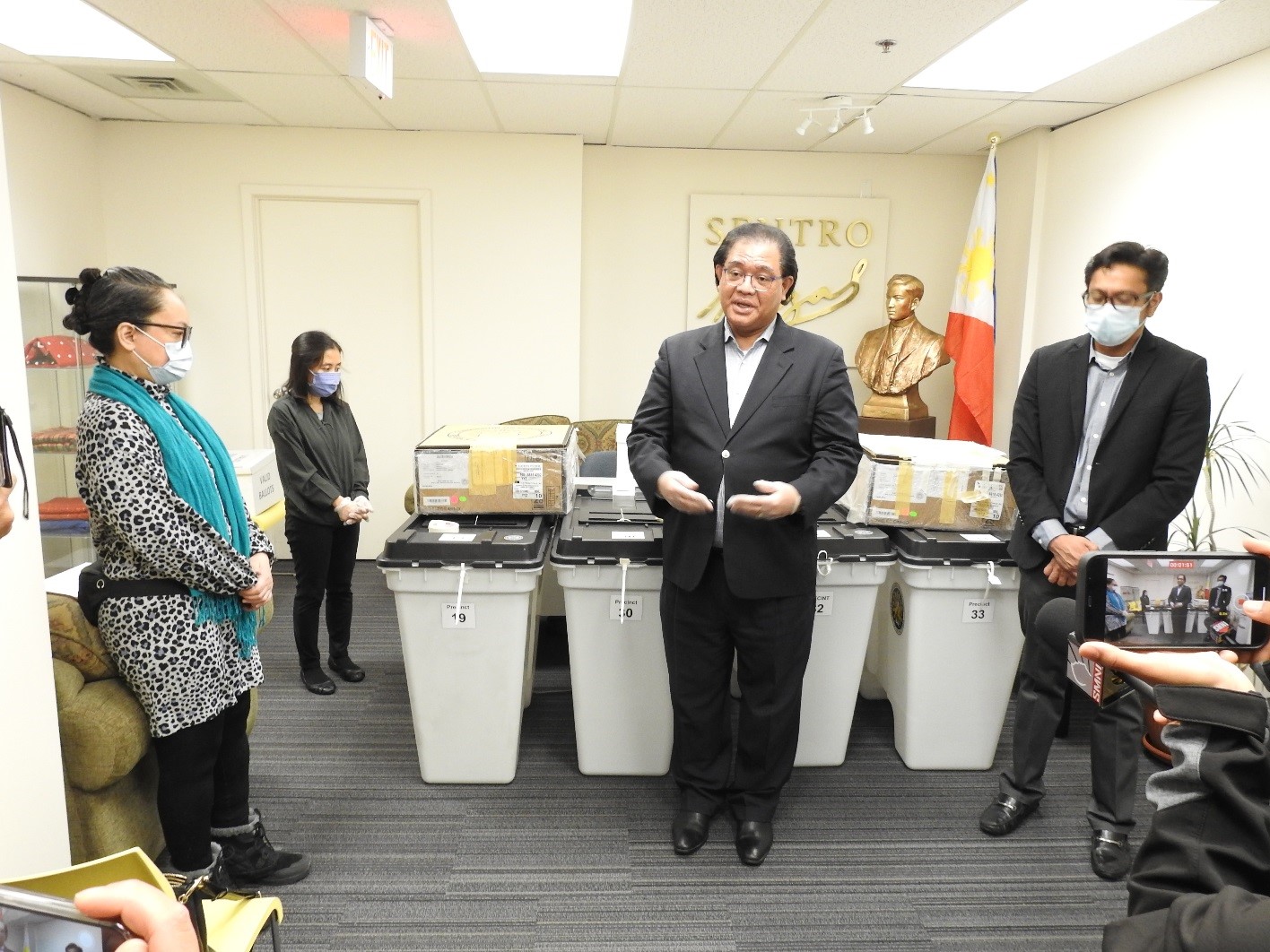 Mr. Antonio Arcangel of Sagip Party-list noted that the procedures and the system are very transparent and expressed appreciation for them being allowed to witness the event. Consul General Orontes V. Castro reiterated his call to the voters to immediately mail back or personally deliver to the Consulate General their accomplished ballots so that it will be counted before the closing of the elections on 09 May 2022 at 7:00 a.m. (Toronto time). The Consulate General expects to receive more accomplished ballots by next week as the Consulate General continues to work round-the-clock to ensure that all ballots are sent to the voters. END
PHOTO RELEASE